Happy Birthday!
Okay, I know I haven't blogged in, like, days, but that was because I really didn't have enough time in the evenings to go online. I so missed my PC and the feel of the keyboard beneath my fingers. ;)
Wednesday, November 16
It was my
birthday
, and I just spent evening eating dinner with family. My cousins
Lynn
,
Moriah
,
Nia
,
Faye
, and
Kyle
came over along with their parents. Add my brother
Nico
to the crowd, and hello, we're running a day care center! Well, not so much on Faye since she's just a few years younger than moi, but the rest of the lot were... uh, not exactly our age, and spent the night pounding on the piano, or jumping on the matress, or hitting themselves with pillows. You know.
Mom bought
lechon
,
lechon manok
, and this
noodle
thing from the
Manila Foodshoppe
. So we ate that, and halfway through the dinner, this
FedEx
truck came to deliver a package to moi... books! Hurrah! Mom had this stunned look on her face and she was like, "Who'd send you a package through FedEx?" So hilarious!
Thursday, November 17
My friend
Daryl
and I were planning a joint birthday bash, since she was celebrating her birthday on the Saturday, the same day that I would be celebrating mine with friends. We planned to hold it in
Bigby's Cafe
in
Ayala Entertainment Center,
so after school, Daryl and I waited for her ride in
Brown Cup
, sipping iced chocolate and raspberry iced tea. Her ride was late and nearly picked us up when it was dark.
The funny thing is, it's such a small world. My aunt told me that Daryl's parents were
ninong
and
ninang
in their wedding, and Daryl and I were flower girls together! I told Daryl this, and she seemed to remember. Her parents also know my uncle and aunt.
Anyway, we got to Bigby's past six, where my mom was waiting. They discussed the details with the staff while Daryl and I had fun shopping. We went around the stores, until Daryl bought this super cute
fairy-like
skirt
from a boutique, and I bought pretty
snowflake earrings
with pink stones from
Colorstone
. While we were at it, I bought Daryl some
chandelier earrings
to match her skirt, and she bought me a
ring
with multicolored stones and a matching
bracelet
.
Friday, November 18
I had the awarding ceremony for the
Ninoy Aquino Essay Writing Contest
in
USC
. I went to the campus with
Regina
and
Meg
, who were also finalists like moi, and accompanied by
Teacher Charisse
, our guidance councilor. It was super cool. We won
a thousand bucks
each along with a
P200 gift check to McDonalds
, plus this book titled
Something to Think About.
After the ceremony, Meg, Teacher Charisse and I went to
Jollibee
where we waited for our rides. Meg left ahead while Teacher Charisse was nice enough to treat me to some fries. My mom picked me up and we went back to Bigby's to give the birthday banner and stuff, and to make a few alterations to the menu.
Saturday, November 19
The day of the birthday bash. Daryl woke me up at
six
in the morning with a text message because she was SO excited! We planned to meet at Bigby's before eleven, so I slowly got dressed and left. I arrived a few minutes past eleven to find
Athena R
,
Lynde
and
Judene
waiting on the floor below the cafe. I told them to go up already. My mom and my brother, who came from my brother's first communion, were at
McDonalds
, since heaven knows Nico doesn't eat anything that isn't
Jollibee
or
McDo
. Daryl arrived thirty minutes later, when more guest had arrived. Most of the people were late because of the
Pinoy Standard Time
(a.k.a. late), but
Regina
and
Sherry Mae
arrived late because of their Quiz Bowl, and
Marvic
because of a radio show.
We nearly occupied the entire cafe. Honestly, we had to order more food and get more tables just to accomodate people! It was so much fun seeing everyone there. Even my homeroom and Math teacher,
Teacher Jean
, and my SS teacher,
Teacher Anne
were there!
After eating, the guys at Bigby's got out the
Titanic treat
plus two plates of something made of chocolate and placed it alongside the cake. They lit the candles and sang Daryl and me a birthday song (which nearly made us deaf because they were so loud!). And then we blew the candles.
Slowly, everyone started to leave, until a few of Daryl's friends, and my friends were the ones left. Daryl and I sorted out our gifts (we got a lot!). Then some left to catch the
Harry Potter
flick, which I wasn't able to, but I swear to the heavens I will watch tomorrow. Amen.
Photos!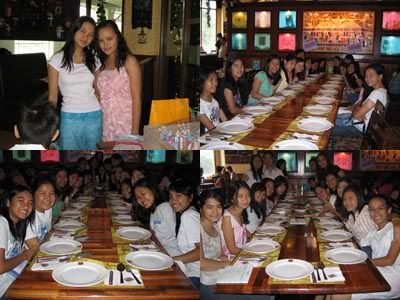 The first photo is of me and Daryl, just before the party started. The other three photos are of the long tables occupied by our friends.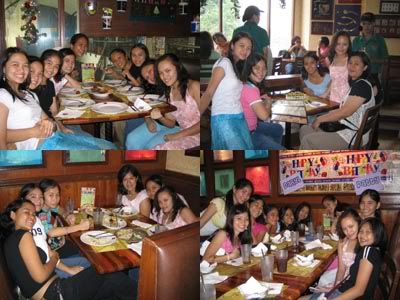 Hanging out with some of our friends and teachers (and they're all too many to enumerate! =p )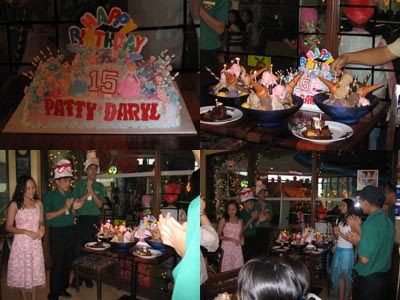 Our birthday
cake
! Originally we wanted a cake that was
half-blue
and
half-pink
, but the baker said to my mom that she tried it and it looked bad, so she compromised by putting pink icing, with blue trimmings. I don't know where
Cinderella
and
Sleeping Beauty
came from, though.
The second pic is of the birthday cake along with three Titanic treats and two of those chocolate stuff. In all honesty, I don't know what those are, but they had candles and had the words "
Happy Birthday Patty
" and "
Daryl
" on the other.
The last two photos were of us being serenaded by the Bigby's people. I knew mom told me they would be singing for us but I had no idea it was gonna be that way.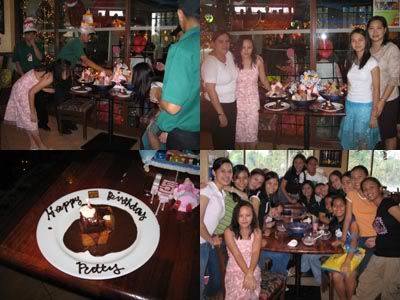 Daryl and I blowing all the candles, and the other one is of us with our moms. The third photo is a closer look on that chocolate stuff with my name on it, before
Miles
ate off the name. The last photo is again with friends.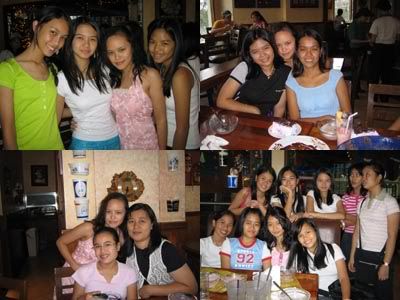 Hanging out with more people! That's
Luv
, Daryl, me, and
Donique
on the first photo,
Tanya
, me, and Teacher Anne on the second, me,
Athena C
and Teacher Jean on the third, and Daryl with some of our guests.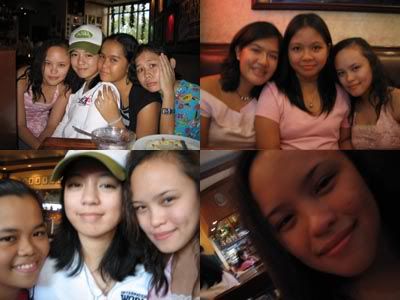 Me, Miles,
Vera
and
Gabrielle
on the first photo,
Meg
,
Fiona
and me on the second (we're so pink!),
Alyssa
, Miles and me on the third, and a randomly vain moment in the fourth. ;)
Overall, it was a fun celebration, and we really did get some cool prezzies. Note the striked below:
The opportunity to fly to London this Sunday to attend the GoF movie premiere.
Tickets to a November 16 showing of GoF
All American Girl - Meg Cabot
Boy Meets Boy - David Levithan
Boy Meets Girl - Meg Cabot
Can You Keep A Secret? - Sophie Kinsella
The Christmas Mystery - Jostein Gaarder
Confessions of a Shopaholic - Sophie Kinsella
The Curious Incident of the Dog in the Night-Time - Mark Haddon
Girls in Pants: The Third Summer of the Sisterhood - Ann Brashares
Harry Potter and the Sorcerer's Stone - J.K. Rowling
Harry Potter and the Chamber of Secrets - J.K. Rowling
Harry Potter and the Prisoner of Azkaban - J.K. Rowling
Harry Potter and the Goblet of Fire - J.K. Rowling
Harry Potter and the Order of the Phoenix - J.K. Rowling
The Princess Diaries IV: Princess in Waiting - Meg Cabot
Ready or Not - Meg Cabot
The Second Summer of the Sisterhood - Ann Brashares
The Sisterhood of the Traveling Pants - Ann Brashares
Teen Idol - Meg Cabot
The Undomestic Goddess - Sophie Kinsella
Veronika Decides to Die - Paulo Coelho
A huge, huge stuffed toy. Preferably Spongebob, but can also be in the shape of a wolf. If possible, the wolf should be pink. Well, it's not exactly huge, huge, but Sam gave me this super cute stuffed toy that looks like a wolf, and I've named it Moony!
Perfume / Cologne You would't believe how many bottles I got!
World peace.
Anything Harry Potter Well, I got three books, didn't I?
Colorstone earrings
iPOD darn!
Original Harry Potter 1-3 DVDs.
The Nanny Diaries - Emma McLaughlin and Nicola Krauss
Cash.
Plus all of the things I got that wasn't in this list! It blows my mind! I got undies, clothes, beauty stuff, figurines, frames, rings, necklaces, bracelets, etc. Supah cool!
Q: Actually, I was just joking around regarding my last question about the hungry thing. I thought you'll pay no mind, but hey! You're pretty nice after all! LOL! Take care always ate! Can I call you ate? (^_^)v - Jheca
A: Ummm... *
thinks it over
* depends on how old are you. ;)
Off I go... and happy birthday to me again! Gosh, I'm a year older already, and I'm in denial! *snickers*