On Fashion and Photoshop
fashion
Needtofindadressdesign. Needtofindadressdesign
.
Seriously.
We're to attend my mom's cousin's
wedding
in
May
and she requests us to be there. So, my uncle is sewing my
dress
. Wee, tres fun! Well, he's also a
fashion designer
so he could totally design it too. But he also told me to look for styles I want and now I'm looking. Which brings us to the topic:
Fashion
.
Most friends consider me as a
'fashionista'
but I really don't think so. I tend to mismatch stuff and when I realize it (usually it's too late), I so feel uncomfortable.
Back to The Topic. Yes, so I'm looking for
dress designs
(online) and I told my uncle to start sketching designs that I can choose, but he hasn't done that yet. The most he says is that my dress will be a
short one
,
tube
, and either
peach
or
orange
(
Orange
is the motif, hello
Ate
J
!). At one point he said I will wear (be prepared)
leg warmers
!?! That totally does not match, but he says, "Look at
Heart
(Evangelista), her clothes don't match but she looks fine." Duh.
Anyways, it's a bit exciting to have him sew me a nice dress. I trust him (just not in terms of
punctuality
!). He had me browsing over several couture and bridal magazines, and telling me to pick a style but I couldn't find anything. Most of them were too outrageous for a simple garden wedding! But I do find
Monique Lhuillier's
bridal collection so beautiful. I was never a fan of
lace
, but I found myself liking it now, hehe. Just take a look: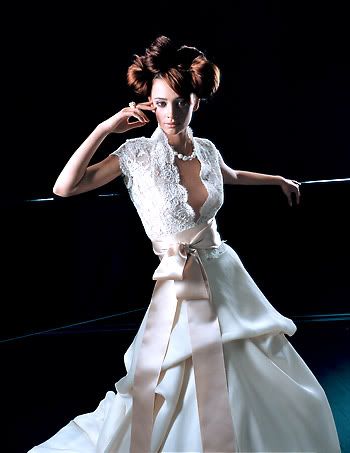 Yes...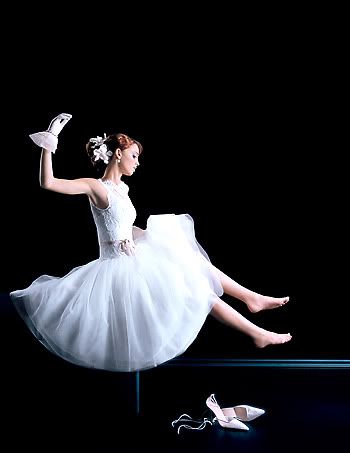 ... oh yes...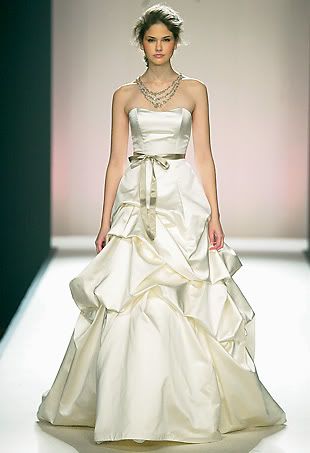 ... yay!! (I do sound idiotic here)
Sadly, I could not find the original
gown of my dreams
that I fell in love with a few months ago.
Tammy
, a few friends and I were chatting and looking at Ms. Lhuillier's website for gowns. Frustrated. But it's not like I'll be getting married soon!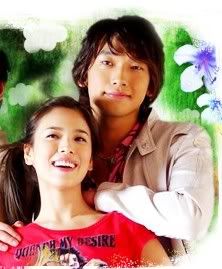 I watched
Full House
earlier, and I really find
Jessie's
(Song Hye Kyo) fashion style really cool! She dresses like a
doll
, and she uses very
vibrant
colors, making her look very fresh. I love how she matches her
tops
, her
skirts
, those
high-heels
, the
totes
, and that
off-center
ponytail
! Hmm, might be doing that off-center ponytail soon. I just hate
Justin's
style. It's so.. blah compared to Jessie's fun clothes!
Also, before I went online, I was watching
Oprah
and their guest was none other than...
Valentino
! I was mesmerized by the clothes that he designed, like that
orange
one worn by
Jennifer Garner
, the
black
one worn by
Julia Roberts
when she won best actress for
Erin
Brockovich
, the
lavender
one worn by
Halle Berry
, etc! His creations are also so beautiful. I loved this specific dress, in
red
, tube, and fell just above the knees with poufy stuff on it which looked like
roses
to me. A model wore a longer version of that dress in the show. It was a signature Valentino creation, and it was just so pretty! But I can't find a picture online. Hey... moving on.
photoshop
Man, this must be sooo last century ago. I heard a lot about what photoshop can do, but it's only now that I'm making the effort to actually learn it. :) I asked mom for an installation CD, and I now have version 6. I'm kinda looking for version 7, so if you're willing to help, then do so. I can't even apply what I learned in tutorials because there are some features missing in version 6. V. v. frustrating. But I did experiment and I was able to do a few magic tricks: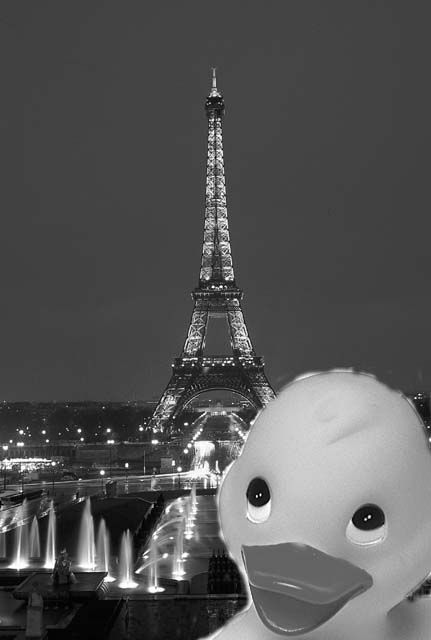 I call this Duckie in Paris. This is the first image I ever photoshopped, using photos from samples. I didn't bother editing it well, since I got the hang of it anyway (hmph). Hehe, isn't it cute?
And this is what I call Muffins and Strawberries. Actually, the tutorial came with an iced tea image but when I downloaded it, it was way smaller than the strawberries and the muffin.
It's 4:15 in the morning now!! Erlack. I told myself not to go beyond 3am. Bad, bad me. Sleeping now. G'night!