Back
Yes. I am officially back after a five-day absence. I bet you missed me.
Aminin na kasi no!
I've never really loved Spiderman but I was dying to change my current template for reasons only I should know. And I have no choice but to choose this. Yes, your Royal Highness Fiona, you can call me bored.
So where was I for the last five days? I was up in the mountains poring over pirated DVDs, eating every single second and sleeping. I was tortured, I mean, forced to go there. I have no choice. And this is the first opportunity I'm grabbing to go home (I was dying). The others are staying there until tomorrow or Tuesday.
I'm officially home. And I miss my best friend, the computer. Oh, the joy of touching your keyboard again and hearing the stupid dialling tone of the dial-up connection. What happiness. *Laughs sarcastically*
You know what's funny? Yesterday, I was sleeping and I think it was about six in the morning. Someone left the door open and like, Ranger (See photo below) got into the bedroom (He's not allowed to) and I was sleeping on the floor. The next thing I knew, there was this hot tongue (Eeewww!) lapping over my eye--my left eye and I bolted upright. It was the dog! The dog, I tell you! I was whispering horsely, "Ranger! Out! Out!" and my brother rose from beside me, took one look at me and Ranger, got up, carried Ranger away and dumped him into the living room. Har har har. I got into the bathroom (Oh gawd I was so thankful there was water!) and splashed some onto licked eye. Eeewwwww. Gross me out.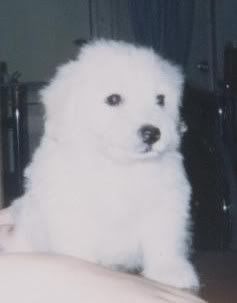 I'm still left behind on some movies. While I was there, I watched Prince and Me, The Girl Next Door, Chasing Liberty, Jersey Girl, Cheaper By The Dozen, Cinderella Story among others. Not on this list are Confessions of a Teenage Drama Queen, Mean Girls and Ella Enchanted. *Sigh*
Since I feel like it, I'm gonna blog about some of my dearest friends.
TAMMY
- She was one of my very first closest friends. I consider her my online best buddy. Heck, we even think alike sometimes and I can say we're both gossip-hungry, fashion-critic girls. We both have the same obsessions (Oh Tams, you know! Just keep it quiet :D ) and it's funny because if one is sad, the other is too, if one is happy, the other is too. I feel comfortable talking to her, and when I do, it doesn't feel like she's miles away but just right beside you. She's really nice to talk to.
ATE JUDITH
- My group of friends and I consider her the "Professor" because she's so knowledgeable on stuff about a certain person we admire. She's a totally cool person and she knows how to make you laugh when you're down. She's really funny and witty and she likes this guy who... talk sense. Right? ;P Ate J's one of those few people who I consider my elder sisters and I really feel comfortable sharing secrets with her because not only will she keep the secret, she'll give you advice. She's sweet.
ATE MARIE
- Another of those few people who I consider my elder sisters. She knows my secrets too and she's cool with it. She'll really be there for you when you need her, she listens and understands. And she's really pretty (Charux), she's tsee-nee-tah. She's also funny and has this
malambing
, comforting voice over the phone. She likes this guy who is related to the guy who talks sense and has the initials of PA. One thing I admire about her is that she never lets anyone put her down and she's real to herself.
MAKY
- Broadcaster diva herself! Joke! Maky is this really hardworking person who people might consider a bitch (Just like the real thing eh?), but I'm not one of those people. I think she is a nice, sweet person and she sticks it out until the end. She has this amazing, diligent attitude that I really admire. I don't know if you know it Maky, but I really admire the way you do things-- you really work hard for things and I'm hoping I could have that attitude as well. I also admire how she treats people who think that she is the real ABS-CBN Queen of News *Smirks* And most of all, she's a great friend who'll make you laugh and who is true to herself.
More tomorrow . *Yawn*